Urban Dictionary has been successfully and traumatically offending me since I started using it to look up all the high school slang heard on the back of the bus that I didn't understand and still don't. It remained true to form today, and is the back of the bus still cool?
The following (abbreviated) definitions should be removed because we can do better than keds!
MOMFIT: Similar to Mom Jeans but includes the whole outfit. They are comfortable but not flattering. Sometimes white keds are involved.
MOMIFORM: An outfit worn by a 30 something mom that has lost all sense of style. They include capri-pants, flats or crocs.
Even though I'm still in my 20s and haven't worn keds since kindergarten, I've had many a momfit moments, like the time I recently dropped off James at preschool in the same shirt in which I slept, or all those other times I wore my spandex all day and will still, or used dry shampoo for three days in a row, or worked out in my jeans, or decided the vomit didn't actually smell that bad. A recent resolution, however, is to get dressed, at least a few times a week, in things other than spandex, even if at the end of the day the way I'm sporting the coated jean trend is through a terrible yogurt/Cheetos excess cheese mixture. The following are few of my favorite tried and true fall fashions that work for me as a mom and further demonstrate urban dictionary's error.
1. Pleather: It wipes off!
I prefer "Vegan Leather," actually because it sounds less plastic and more expensive, except it isn't. Not to offend the Vegans, but I do own and love real leather things, especially the moto- jacket Jim purchased for me as a bday present, but, it can be tough to spend hundreds of $$$ on trends, and I also eat tons of cheese, and I really like it, so here I am offending. The number 1 reason I love this trend IT WIPES OFF! Grab a baby wipe and discipline with conviction, even toddlers will intuitively understand not to mess with a mom in a motorcycle jacket.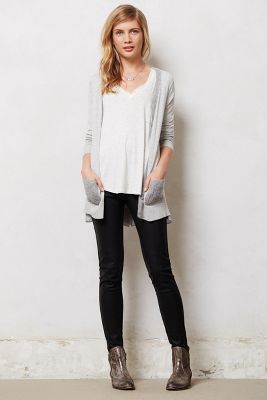 These Vera Vegan Leather Leggings from Anthropologie do wonders for the bum and an attitude. They may be more suitable for a date night, but just in case a bowl of macaroni and cheese spills all over the floor and these pants just as the babysitter is taking the reigns, fear not. Walk past the diaper changing station on the way out the door, steal a wipe, and have a drink or three in these awesome leggings. And when their price is compared to these ones at $794 which look awfully similar:
Sold!
If a whole panel of leather, pleather, well worked plastic, is too much, I recently purchased this very practical and moderately priced top from Express that offers a just a touch of the trend.
2. Maxi Dress: Bend over with confidence, Squat with no fear.
For the past few seasons, I stupidly convinced myself that I'm too short for a maxi. One brave day I found an $8 clearance striped racer-back at Marshalls. It looked short and cost the right amount of dollars to experiment with shrinking and wearing. The dryer trick made up for never hitting puberty and as I bent over all day long, cool as could be, exposing nothing, running and playing, each and every one of my 60 inches walked tall. Beyond kid wrangling practicality, they translate from summer into fall faster than a long sleeve t-shirt or pullover can be pulled over your head.
Piperline is having some good sales. Go to girl on a budget, maxi dress.
3. Boot Wedges: Run like the Wind, Wear capri pants without notice
I'm positive this one is old news, but just found these boots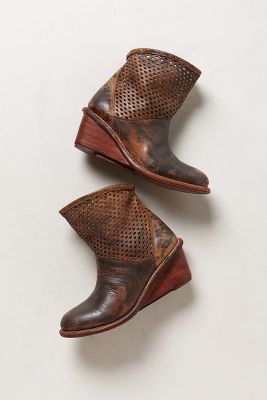 I'm in loove. Great for preggo hurting feet, or regular hurting feet, awesome for a mom chasing after spirited or (disobedient) children, best at discretely hiding summer/spring short pants. Find them (still full price unfortunately) at anthropologie
4. Infinity Scarf: too many reasons to list
Okay, so the one I own and wear is made of spandex and from Lululemon, but maybe I'll spice it up soon with a graphic pattern or jewel tone? Is that in? I'm pretty much only up on this season's leather trend.
Here are a whole bunch of things that I do with it.
– it keeps me warm
– it looks nice – its on trend
– it can cover my face when my kids do something bad and I'm laughing but if they see me laughing I'm toast
– it can wrap a newborn when I forget to pack a blanket (always)
– it can hide a nursing baby anytime
– It can be wrapped in a way that covers my bum after a workout
– It can be wrapped to sort of look like a shirt after a work out
– It helps me feel like I sort of accessorized my spandex get ups just in case I don't fulfill my getting dressed resolution
– I can make it into a hood and pretend to be star wars characters
– I can lay it down on a gross surface when I need to change a diaper
– It can wipe up a mess juuussst in case – It washes well incase it's a mess
– It's a way better airplane blanket than those navy felt things they cut back on
5. Duffle purse: ditch the diaper bag, unless you really like yours.
I hope to not offend anyone else with what I'm about to say, especially not the Vegans again, but diaper bags are just a little bit stupid. Sure they have pockets, but paying bucks for less than desirable looking fabrics is just not worth it to me. My fashion enthusiast friend recommended one like this:
I prefer a cross body deal because no hands need to be wasted dealing with a purse when they probably should be used holding a hand or wiping a nose. The ones pictured above have a removable cross body strap taking the bag from the park to dinner or somewhere else that doesn't require holding hands in a parking lot unless there is married flirting involved. I pack what I need in plastic bags if it doesn't have enough pockets, and then the kids throw their trash wherever they want making the plastic bag thing pointless.
Happy Shopping! Go buy something leather! but first head to MoxieWife for more!